Experimental abstract and non-objective paintings
Blog post prior to 10/2013 may be found at http://lauragibbs-studio.blogspot.com/
Category: painting
| 28 May, 2015 21:17
I am participating in one show this spring and it is this coming weekend.  The show is Arts in the Middle in Urbanna, VA which s approximately an hour and a half from Hampton Roads.  The show is open from 10:00 am until 5:00 pm on Saturday, May 30th and 10:00 am until 4:00 pm on Sunday, May 31st. There will be entertainment at the show and later that evening in the town of Urbanna as well. Please refer to their site for more informationhttp://www.artsinthemiddle.com/

Some of you may have noticed that I was missing from a couple of the spring shows that I normally participate in.  I missed East Beach and Stockley Gardens as they both conflicted with family commitments and celebrations.  It felt really odd not to be at these outdoor shows this year, but I wouldn't have missed our son's college graduation for anything.

There are two very exciting shows on the horizon.  I will be exhibiting in a one person show in Richmond and an invitational in Smithfield.  More information will be sent soon. 
| 01 May, 2014 21:02
Come out and see my art this weekend at the 43rd Annual Arts in the Park in Richmond, VA.  The show is held at the Carrilon in Byrd Park.  We are open from 11 am until 6 pm on Saturday, May 3rd and 11 am until 5 pm on Sunday, May 4th. I am honored to be one of over 400 artists from around the country to be participating in this art show. More information may be found here http://www.richmondartsinthepark.com/

The painting shown above is one of many new pieces that will be on display.  Juncture is watercolor, gouache and watercolor crayon on Yupo.
| 03 April, 2014 20:34
I am fortunate to have a painting in the Mid-Atlantic Art Exhibition that opens Friday, April 4, 2014 at d'Art Center in Norfolk, VA. The opening is from 6-9.  The work will be on display through May 18th. This show is a national juried show and is part of the 2014 Virginia Arts Festival.

My painting called Reaching was accepted.  This painting is acrylic on a heavily textured canvas and is 18x36.
Below is an excerpt from d'Art Center's website http://www.d-artcenter.org/410.html
"The 24th Annual National Mid Atlantic Art Exhibition celebrates the Visual Arts during the Virginia Arts Festival in of the d'ART Center wide variety of visual arts mediums from around the nation including; Mixed Aqueous, Oil, Sculpture, Pastels, Digital Photography and much more!"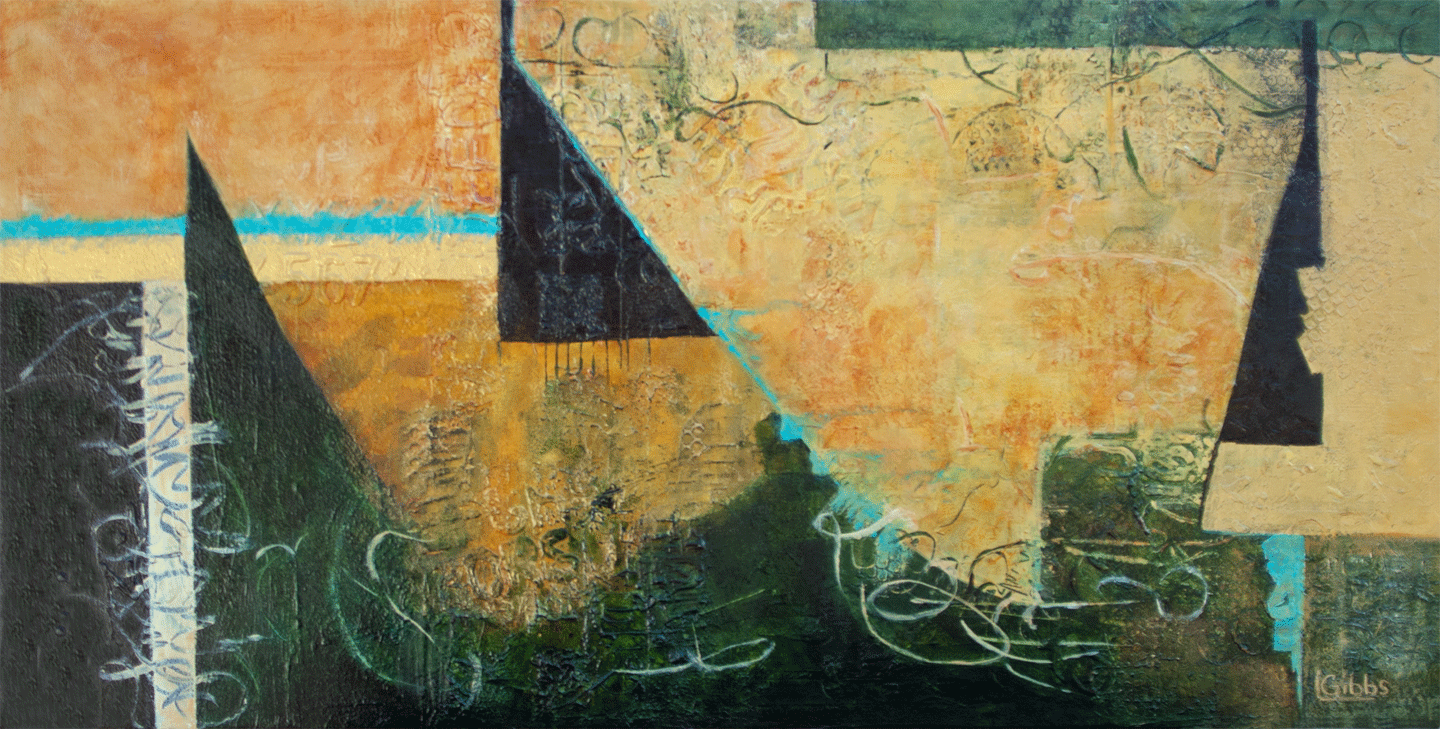 | 05 October, 2013 20:34
Aerial View is mixed media on handmade paper.  The painting was then mounted to a cradled panel so it is ready to hang without a frame. I often start several paintings at one time and finish them when "they speak to me".  Even though I looked at this start a number of times, it just didn't speak to me.  Along came a new product that I wanted to try – Golden High Flow Acrylic.  I pulled this painting out and began finishing it.  The painting was started with some texture mediums and ink.  It was about 80% finished and the remaining 20% was finished using these new paints.  I was extremely pleased with the glazing properties of the transparent colors.  I particularly love the lower right hand corner where I was able to glaze purple over the yellows and neutrals.
| 03 October, 2013 12:42
Caribbean Duet is an 8x10 mixed media on board.  It evolved by starting with a layer of texture using ink.  The next layer was a few pieces of newspaper collage, and then numbers were stenciled in the upper right.  From there, I applied many thin layers of acrylic paint, watercolor crayons and Pearl-Ex powders.  The painting was then varnished with a thick glossy layer and framed in a wide matte black frame
Menu
Calendar Of Posts
Recent Posts
---